Festive Menu 2021
Please see below the Festive Menu for 2021.  Available from December 1st to Lunch time on December 24th.
Christmas Festive Four -Course Menu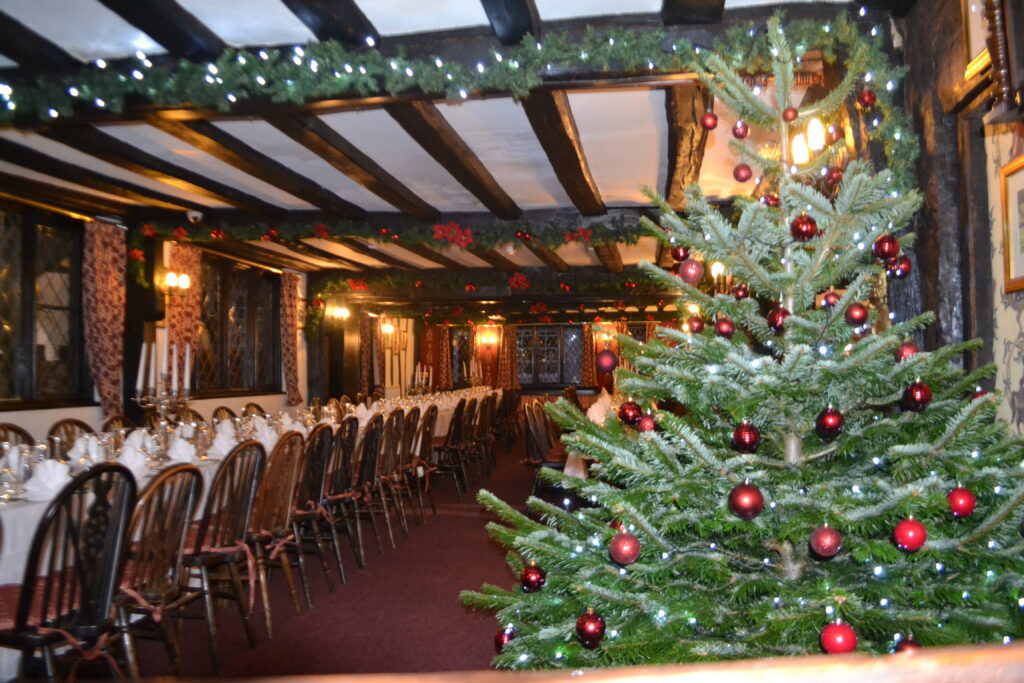 Luncheon
Starters  £8.50 each
Smoked Ham Hock and Mustard Terrine
Homemade Sourdough, Watercress Salad,
Cranberry & Red Onion Chutney
Pear, Date & Walnut Salad ~ (V)
Compressed Pear, Winter Leaves, Soaked Dates
& Brighton Blue Cheese Dressing
Main Courses
Free-Range Local Turkey £16.95
Home-made Cranberry Stuffing, Sausage Wrapped in Bacon,
Roast Potatoes, Honey Roasted Parsnips,
Brussel Sprouts with Chestnuts & Turkey Jus
Nut Roast  (V/VG) £16.95
Roast Potatoes, Roasted Parsnips, Marmalade Glazed Carrots,
Brussel Sprouts with Chestnuts, Braised Red Cabbage,
Swede Mash & Vegan Jus
South Coast Cod in Beer Batter  *# (A) £13.95
Chips, Minted Mushy Peas & Tartare Sauce
Fried Breaded Chicken and Waffles £12.95
Ranch & Maple Butter Sauce
Fritto Misto  # £12.95
Lemon Mayonnaise
Steak & Kidney Pudding # £14.95
Buttered New Potatoes & Seasonal Vegetables
Mushroom & Brown Rice Bonbons *# (V/VG) £11.95
Mixed Bean Cassoulet & Crispy Kale
Sundays Only
Traditional Roast Sirloin of Beef   £16.95
Roast Potatoes, Yorkshire Pudding and Seasonal Vegetables.
Sides  £3.95 each
Hand Cut Chips (V)
(Plain or Cajun)
Mermaid Winter Salad (V/Vg)
Desserts £7.00 each
Traditional Christmas Pudding
Brandy Custard
Mermaid Custard Tart
Nutmeg Ice Cream
Dark Chocolate and Black Cherry Delice
Marinated Black Cherries,
Pink, Black & Szechwan Peppercorn Meringue, Cherry Sorbet
Selection of Ice Creams & Sorbets
Selection of English Cheese £7.50
Pear Chutney & Biscuits
Coffee & Mince Pies £4.00
Vegetarian (V)  Vegan (Vg) Contains Alcohol (A)
* Can be Gluten Free   # Can be Dairy Free  ~ Vegan without the Dressing
(Gluten Free Bread available upon request) 
V.A.T. Included at Current Rates