The Mermaid has been welcoming travellers for 600 years. From Thursday 5th November we will be closed due to the latest Government Guidelines. We will be open for the following purposes:
"where people are unable to return to their main residence;
or live in accommodation permanently;
or need accommodation while moving house;
or need accommodation while attending a funeral;
or is isolating themselves from others as required by law;
is an elite athlete or coach and requires accommodation for training or competition;
or is providing accommodation for any persons who requires accommodation for the purposes of their work."
We hope to fully re-open on Thursday 3rd December.
HOWEVER……….
Takeaway Service from Monday 9th November…….Menu……it will probably be the oldest Drive Thru in the world……
Ordering:
1. Phone reception on 01797 223065 between 9am and 8.30pm Friday – Tuesday.
2. Reception will record the order. Payment is by card only. If picking up by car, please supply the car registration.
3. A Time will be given for pick up.
Pick Up:
By Car:
1. Please drive up Mermaid Street and drive through the Arch and park in the Car Park at the rear.
2. The order will be brought to your car.
3. Please exit the Car park via The Mint.
On Foot:
1. Please wait in the areas marked on the Patio outside the Bar.
2. Your Order will be placed on a table for you to pick up.

Reception is open ….please be patient as we are very busy…..we will respond to all enquiries. [email protected] or 01797223065
Our Restaurant is open for bookings on Open Table for Thursday 3rd December onwards . Both The Restaurant and The Giants Fireplace Bar will be operating with reduced capacity. We have opened The Tudor Bar to provide seating for 50 people. Bookings are not taken for the Bars.
THE TUDOR BAR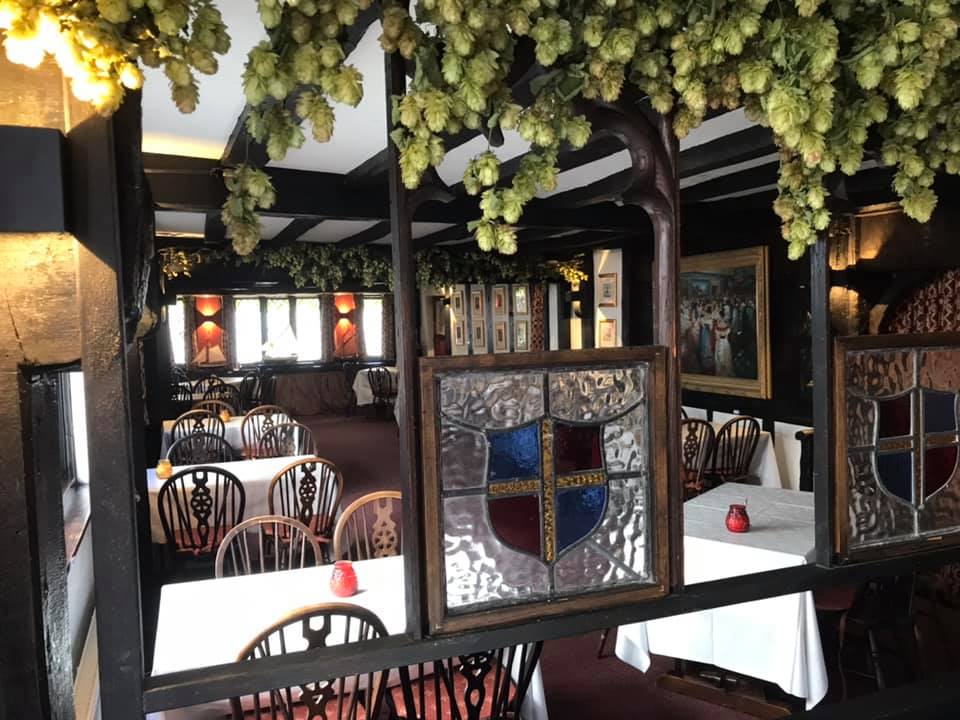 Due to the Government Rulings, the Restaurant and Bar will be closed at 10pm The timings for Food Service will be 6.00pm until 8.30pm in both the Restaurant and the Bars
There will be clearly identified entrance and exit points to the building. There will be table service throughout.
There will be staff with the specific role to meet and greet.
Please see our Covid 19 Protocol for full details.
The Cellars date from 1156 and the building was rebuilt in 1420 after The Mermaid and the Town of Rye were burnt to the ground by French Raiders on June 22nd 1377.
Experience a drink in the Giant's Fireplace Bar and imagine how the Hawkhurst Gang, local smugglers in the 1730s and 1740s, caroused in the bar. Can you see the secret passageway entrance?
Dine in the Linen Fold Panelled Restaurant. Enjoy the ambience of the large restaurant, the cosiness of the Dr Syn dining room or the privacy of the Boardroom for your evening meal, lunch and breakfast.